Settings: Servers
Access the server menu by tapping on the gear icon on the main dashboard.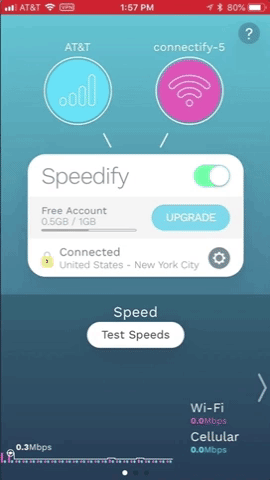 You can configure Speedify to automatically connect to the best servers for performance or manually select individual servers around the globe.
Fastest Server: By default, Speedify picks the closest Speed Server, which will give you the fastest Internet connection.
Torrent Friendly Server: The Advanced choice of Connect to P2P Server, connects you to a server which allows BitTorrent traffic. These servers are located in Amsterdam, and depending on your location, may be significantly slower than closer servers.
Choose Country: You can also pick to use a Speed Server from a specific country; Speedify will show a few countries that you are likely to use, but you can pick "more..." to see the complete list of countries. This allows you experience the Internet as if you were in that country. You can drill down using the arrows to the right of the screen to see individual Cities within a Country, as well as Servers within a City.